The internet came to be in the early 1990s and since then technology has exploded. Every home has a bunch of new devices and the power needs of each home have grown significantly. Older circuit panels were not built to keep up with the demands of this new age.
But, circuit panels are getting more and more advanced. So, here we will talk about the advantages of replacing your whole panel rather than simply updating breakers.
Read on to find out more about when to know your system needs an update and why you should replace the panel instead of updating the breakers.
Clues Your Home's Circuit Panel is Having Trouble
Before the system fails, you'll have a number of different clues that tell you it's about to happen. Here are some of the most common clues.
Flickering or Random Dimming of Your Lights
Have you noticed changes in your lights lately? Replaced the bulbs but the problem still persists? Lights should never dim without a dedicated dimmer switch.
Dim lights only point to problems either with your electrical system or issues at the utility companies end. There are times when your city or county is experiencing a brown out and this will cause dimming.
Call the utility company to confirm if there is an issue. If all is well than you're going to be looking at fixing your electrical system.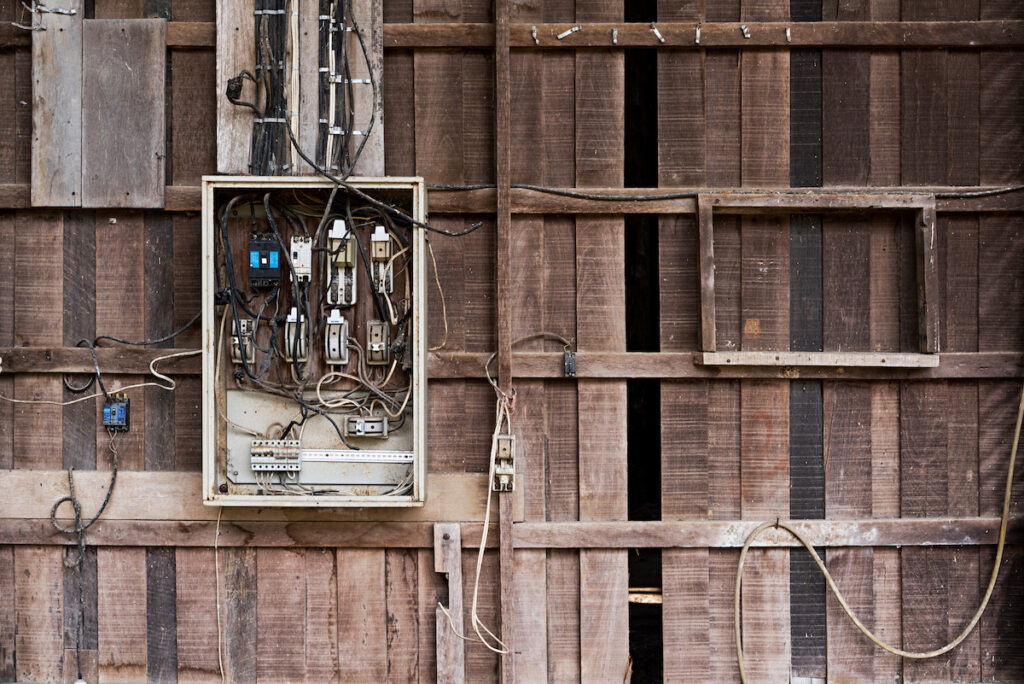 How Old is Your Home?
Homes built 30 years ago were not built to the electric standards needed in todays world. So much has changed in a short period of time that your system can malfunction just from trying to keep up.
Older control panels fail when trying to run multiple devices at the same time. If you're running your gaming computer, air conditioning, dryer, and microwave all at once the circuit can blow.
If your older circuits are constantly getting tripped and overloaded than you'll need to replace the entire system. Replacing or updating the breakers will only be a band aid solution.
Are You Smelling Burning Around the Electrical Panel?
The smell of burning or a warm electrical panel are signs of a major problem. The wiring behind the unit can be faulty and it is a severe fire risk to your home.
Regularly check your panel and touch it. Does it feel warm? This is also a big indicator of wire damage that needs to be addressed right away.
You'll need to contact an electrician immediately to have the panel inspected and replaced. This one isn't a matter of inconvenience but one of life or death. Don't wait call an electrician today.
Does Your Panel Seem Outdated?
If you're still on the split-buss system with a ton of different breakers instead of one central breaker you're going to need to update the system.
These are prone to overload because they aren't meant to run dozens of things at once because 40 years ago that wasn't necessary. As the system gets older it will continue to overload more frequently.
The best idea is to get a new panel with updated circuitry.
What's Failing? Is It Just the Breaker?
While most of these instances would require a new panel this one is a bit different. If one breaker keeps causing problems and stops doing it's job it might be broken.
In this case, a whole panel replacement won't be necessary and you can have an electrician repair the breaker. However, if your panel is outdated they are going to suggest you think about replacing it.
Always better to put in an ounce of prevention than to be stuck in the dark waiting for a pound of cure.
Always Call a Professional For Electric Issues
No matter what the problem is you should never DIY an electrical issue. We are talking about electricity here and it can kill you if you don't know what you're doing.
Using a quality, licensed electrician is the only way to go. They'll be able to diagnose the problem quickly and give you the best solution. You'll be back up and running in no time.
Are you looking for an electrician to replace your panel? Wondering if you need to update it? The professionals at Anchor Electric are here to help.
We have 20 years of experience and do all sorts of repairs and replacements. We can come out and give you an estimate on fixing your panel right away.
Contact us today to schedule your appointment! We are excited to meet you.