Buying a new home is an exciting time. You get to plan out the interior, buy new furniture, and make the place feel at home. Furthest from your mind is your electric system. But, some homes need electric updating when you move in.
We were selected by Redfin as a top electrician expert! See the article we were featured in: The Complete Spring Home Maintenance Checklist
If the home is not a brand new build but has been around a while, there are a few things that should be done to make sure the electric is in tip top shape.
Read on to find out what you can do to update the electrical of your new home.
Check the Panel and All the Outlets
Before you think about the design aesthetic you need to make sure the major systems of your home are working and up-to-date.
Take a look at your electrical panel. Is it a split-buss system with dozens of breakers? This is outdated and should be upgraded to a modern panel with one central breaker. Do you notice the panel is warm to the touch? That is a clue the system is failing and you need an electrician right away.
If your lights are dimming or flickering that's another good sign that your electric systems needs to be updated and repaired.
Install Modern Outlets and Light Switches
If you're like most people you've probably never given much thought to the outlets and switches in your home. Basically, unless they aren't working they're forgettable.
But, if they are the same ones the home has always had and your new house has been around a while, you're missing out! There are tons of advancements that have been made to outlets and switches that make your life with new technology simpler.
You can install outlets that have additional USB ports for your charger. Install dimmers to set the mood.
Always running out of plugs? Don't buy more extension cords, replace your outlets. You can get outlets with 6 ports you don't have to stick with just 2. The sky is the limit and outlets and switches have never been more customizable to the kind of life you lead.
Buying New Modern Fans
While almost everyone has central AC and heating these days it's still a great idea to install brand new ceiling fans in each room. Modern fans use far less power than their predecessors and will also help keep your electric bill down.
When you use a ceiling fan, you can keep the AC set at a higher temperature and still be comfortable. Limiting the amount of times the AC has to cycle on saves you money and energy.
Also, modern fans are advanced. Most run from a remote control. Some have bluetooth and can be controlled from your smart device. Some have bluetooth speakers installed so the fan also becomes your sound system.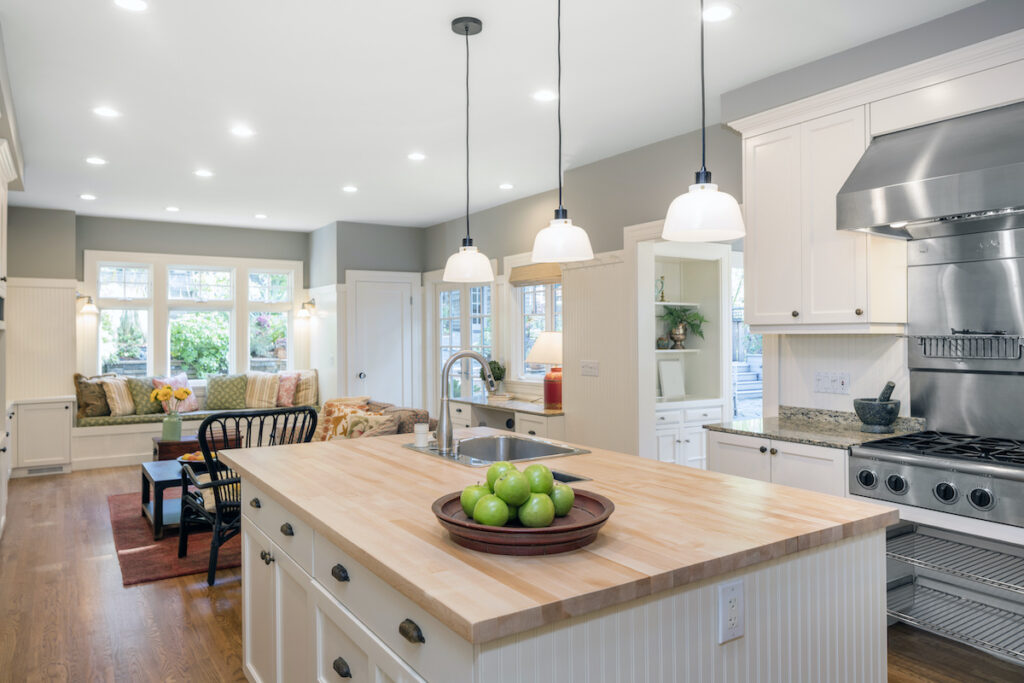 Update the Lighting In Your New Home
Lightbulbs have come a long way. From the old edison bulbs, to the flimsy filament, now enters the LED lights of tomorrow. Updating your lighting to LED will save you tons in energy and lightbulb costs.
The typical LED bulb lasts tons longer than their standard bulb counterparts. Also, updating your lighting gives you the ability to tailor the light in your space to the way you live.
Do you like more light over the kitchen island? Do you display art? Are you an avid griller and hang out in the backyard all the time? All of these are opportunities to build in specialized lighting ideas to handle these tasks.
Add in recessed lighting to provide more light throughout your home without disturbing the sight lines with large light fixtures. Give your fixtures the impact you wanted by using them sparingly as accent pieces and counting on the recessed lights to carry the major lighting load.
Update Your Electrical and Step Into the New Era
We hope this has given you some inspiration on the kinds of customizations you can do in your new home with electrical. You can completely customize each room to your liking and to fit the way you live everyday.
Think about other things that inconvenience you and see if there's an electrical solution that could solve it. You can put plugs anywhere and include all different sorts of power ports.
Ready to update your electrical system? Contact Anchor Electric today to get an estimate! With 20 years experience and a team of professionals we will get the job done right the first time.